Here we go with the freebies I got in the mail today!!! I will explain where everything came from as we go.
Today's first freebie was from
Listia.
For those of you that don't know how this site works, think e-bay but with little or no money being exchanged. You get a certain amount of points when you join, you can also earn points by like signing up for netflix, referring friends, etc. The best way to get points is to "sell" stuff. People bid their points to win your stuff. You can either choose to charge shipping, or pay for it on your own, and same with auctions. Some auctions are free shipping, some are not.
Item #1 is a cute little ornament/key chain of an angry bird. It's small, but really cute. I think I'm going to hang it on the tree, and then on my keys after Christmas. This required no shipping so was ENTIRELY free to me.
Item #2 is a box full of awesome various goodies. This was also from
Listia
, I paid $10 shipping on this, and it was totally worth it, as you will see when this list comes up!! Here we go:
1 black shopping bag
1 shiny pink purse like thing
2 Hello Kitty Pens (new in package)
2 Butterfly Clips (new in package)
Avon Skin So Soft Original Creamy Body Wash (full size)
Mary Kay Satin Hands (full set, full size)
2 tubes of chapstick brand chapstick (new in package)
1 auto expressions car air freshening flamingo (pineapple passion, brand new)
3 brand new re-usable produce bags (i think i'm supposed to use these in the stores instead of the plastic bags?)
1 burts bees Fabulously Fresh Peppermint & Rosemary Body Bar
1 kitchen sponge (new in packaging)
1 travel size sewing kit
1 brand new Riviera Leather wallet (was in packaging)
All below are Bath & Body Works FULL SIZE:
-Mango Mandarin Foam Burst Body Wash
-CO Bigelow Ginger Mentha Revitalizing 2 in 1 bath and shower foam
-Spiced Gingersnap Body Lotion
-Nutcracker Sweet Body Lotion
-Breathe Delight 24/7 Radiant Moisture Gradual Tanning Body Lotion
-Breathe Happiness 24/7 Moisture Boost Body Lotion
Some of the lotions are used a bit (less than half gone), but who cares??? They still work!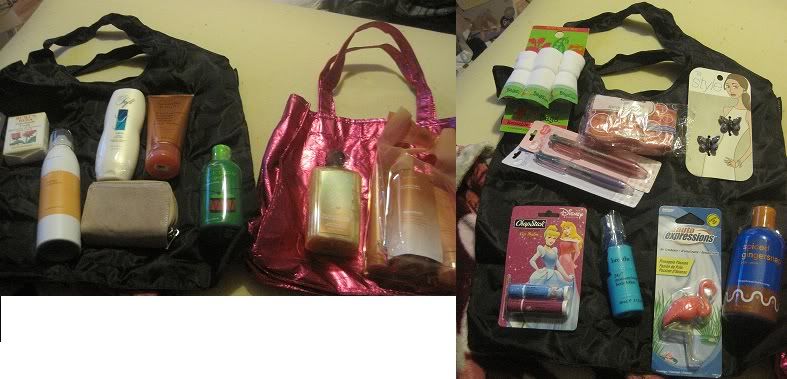 Now we move on from Listia. Freebie # 3 of the day is a sample box of Hills Brothers Mocha Mint Cappuccino. This included 3 packets (think hot chocolate size) as well as a $1 off coupon. I have no idea if this product is available locally, but I'm drinking it as I type, and it's awesome! It actually has little candy cane pieces in it!!!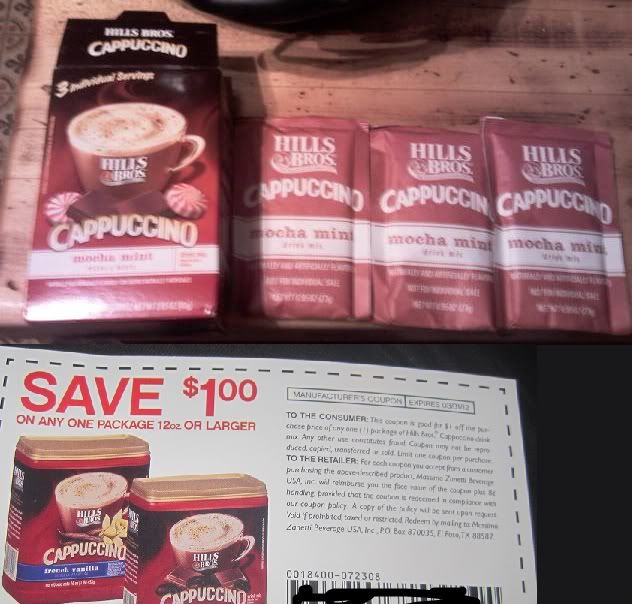 Onto Freebie #4, today's last and final freebie! This might be my fave, although the Listia package is pretty awesome. This was a promotion a couple weeks ago, where I could send a Gluten Free gift box to someone. It was a Facebook promo, you had to post the link on your friends wall, and then they had to order the promo themselves, so if you are GF, and didn't get one, I did post a link!!! It is UDI brand, and everything is GF. Included was a 4 pack of hamburger/sandwich rolls, a 4 pack of double chocolate muffins, a package of snicker doodles, and a 4 pack of cinnamon rolls. I'm not sure if I know anyone locally who is GF, and I can't afford to send it, but if you would like it, let me know! I'm willing to ship it if you pay exact shipping, but I may just test the products myself, and post a review.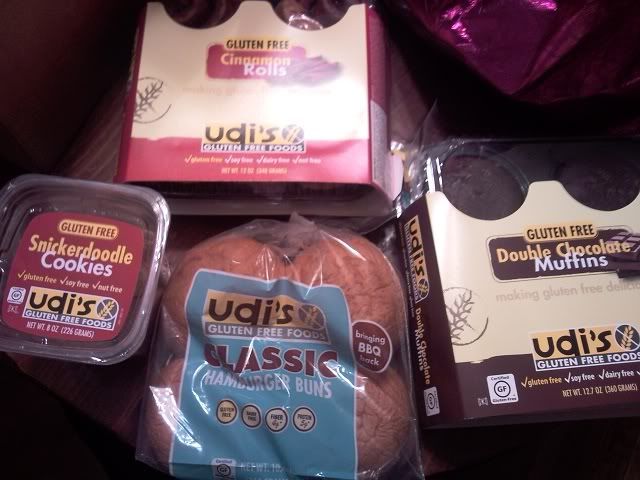 That's it for today's freebies! I will be checking on my dinner in a few mins, and posting that as soon as I test it!!!